About the CPD course
Certain chemical incidents may harm large numbers of people in a short space of time so the ability for NHS and PHE staff to respond effectively is vital. This e-learning course is designed to give an overview of chemical incidents; covering how to recognise the signs and symptoms of a chemical incident including: secondary contamination; containing a chemical incident; the principles; practice and limitations of decontamination and how to treat people who have been exposed to chemicals.
CPD Provider
UK Health Security Agency (UKHSA)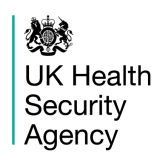 UK Health Security Agency (UKHSA)
The UK Health Security Agency (UKHSA) is responsible for planning, preventing and responding to external health threats, and providing intellectual, scientific and operational leadership at national and local level, as well as on the global stage. UKHSA will ensure the nation can respond quickly and at greater scale to deal with pandemics and future threats. As a Category One responder under the Civil Contingencies Act, we provide Emergency Preparedness and Response Training and Exercises for our staff and external stakeholders. Attendance at some of our events are provided to third parties on a commercial basis subject to availability of places.
Get industry-related content straight to your inbox