About the CPD course
We all know the destructive potential of conflict in both our personal and professional lives. Despite this; we often continue to deal with conflict in the same ways. Some of us are conflict phobic – avoiding it at any cost; often to our own detriment. Some of us use conflict to assert our own power - at whatever cost; often to the detriment of others. This shared learning experience will help you deepen your understanding of conflict and provide you with the skills to deal with conflict more constructively in your everyday life; both personally and professionally.
CPD Provider
The Restorative Lab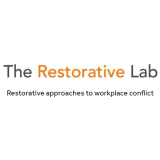 The Restorative Lab
When conflict happens in the workplace or people experience inappropriate behaviour at work relationships break down, teams deteriorate and productivity is affected. We help companies transform conflict into opportunities for growth and innovation. We know that conflict can be complex, destructive and damaging to people, organisations and the bottom line. The Restorative Lab offer models and methods that build, maintain and mend productive workplace relationships.
Get industry-related content straight to your inbox