About the CPD course
In this presentation we will cover the Role of Passive Fire Protection; what is Compartmentation? The Role of Fire Doors; Building operators' legal obligations and how the law applies to Passive Fire Protection; Understanding competence.
CPD Provider
Ventro Group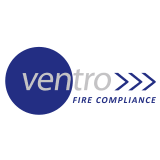 Ventro Group
Ventro are the leading Fire Safety specialists in the UK, providing the survey, install and maintenance of passive and active fire safety works. Our mission is to use our technical knowledge of Fire Safety and educate those who require training on the importance of both the active and the passive services and how they can protect buildings and assets and, most importantly, lives.
More CPD courses by Ventro Group
Ventro Group
Ventro Passive & Active Fire Safety Seminar designed to raise awareness of Passive Fire Safety whils...
Ventro Group
This presentation is an introduction to compartmentation. It will look at the roll of passive fire p...
Get industry-related content straight to your inbox
Thank you for subscribing