About the CPD course
This course is open to those who have completed the Teaching Yoga to Key Stage 1&2 (5-11) Level 1 course. 6 hour course to build on the foundation set in level 1. The journey continues with a focus on breathing and the scheme of work is expanded to include breath awareness techniques appropriate for this age group.

By the end of this course the learner will be able to:
● Understand why yoga follows a journey and that breath awareness is the next step on
this journey
● Describe the mechanism of breathing
● Appreciate that children's breathing is different to adults
● Identify how the breath behaves in different emotional states
● Follow the response of the autonomic nervous system and see how the breath can be used for self-regulation
● List some of the qualities and benefits of efficient breathing
● Recognize the relevance of yoga breathing techniques for children
● Define the term pranayama and name the four parts of the breath
● Use appropriate language and activities to promote awareness of the breath
● Demonstrate 6 postures which incorporate breathing techniques
● Facilitate a group activity using the yoga postures
● Introduce the new postures and activities using a step by step plan to mix and match the level 1 and 2 content

Training is delivered on the Yoginis Yoga training platform 'The Hive' with options for facilitated group training.

CPD Provider
Yoginis Yoga Training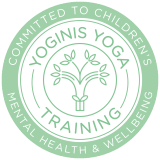 Yoginis Yoga Training
Yoginis Yoga are specialists in children's wellbeing and mental health with 20 years experience including special needs. Yoginis Yoga's aim is to upskill childcare and education professionals to deliver fun, all inclusive schemes of work as part of the education syllabus. Course content is designed by highly qualified and experienced yoga and mindfulness professionals; Susan Hartley BWY Dip, YMT and Katie Brennan BWY Dip ACMA/CGMA and accredited by AFPE and the Children's Activities Association.
Get industry-related content straight to your inbox
Thank you for subscribing