About the event
Panel of spinal experts encompassing a MDT team about spinal neurosurgery;spinal orthopaedic surgery;anaesthesia and pain management in the community and when to refer
CPD Provider
London International Patient Services (LIPS)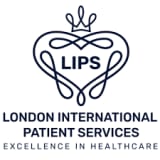 London International Patient Services (LIPS)
London International Patient Services (LIPS) is a multispecialty medical group comprising a highly skilled panel of consultants who are world leaders in their fields and who work exclusively at internationally renowned London NHS teaching (university) hospitals, a benchmark of success. At LIPS, we are committed to providing high quality, specialist treatment for private patients seeking treatment in London. Our patients benefit from accessing highly specialised consultants in: Trauma & Orthopaedics, ENT & Robotic Head & Neck Surgery, Maxillofacial Surgery, and Plastic Reconstructive Surgery.
London International Patient Services (LIPS)
In this session Prof Ali Ghoz will be discussing Minimally invasive anterior total hip replacement a...