CPD Events
Same Day Emergency Care (SDEC) - Master class - To admit or not admit that is the question?
About the event
This complete two-day event is designed for consultants; GP's; registrars; middle grades and advance practitioners on the initial assessment and management of common presentations to SDEC. Delivered by a of specialist consultants this interactive event combines current evidence-based medicine with everyday clinical applications; providing you with the knowledge to improve your practice in the management of SDEC patients. Contents: Breathlessness; Diabetes; Chest pain; Headaches; Syncope & dizziness; Electrolyte imbalance; The swollen limb; Frailty & falls.
CPD Provider
Coeus Medical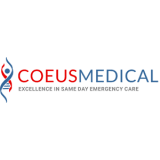 Coeus Medical
Coeus Medical is a company whose mission is to provide excellence in same day emergency care (SDEC) education for healthcare professionals across primary, community, secondary care, mental health, and the independent sector. Utilising a blended learning approach to deliver evidence-based education, combined with interactive clinical scenario's enables healthcare professionals to gain the experience they require to deliver an effective SDEC service.
Coeus Medical
This complete one-day event covering the management and interpretation of investigations for patient...