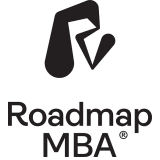 Growth Strategy Roadmap
The Roadmap alternative MBA is a CPD certified training course which provides the real world skills to help grow a business, aimed at organisations of less than 250 people. SMEs account for 99% of the business population and the challenges smaller businesses face are different. In smaller businesses people are often asked to perform multiple roles, some of which they're not trained to do. To create high performing teams you need to teach these skills!
Growth Strategy Roadmap
There are millions of people who feel that there are parts of their job that they're not trained to...