CPD Courses
Brainstorming Masterclass: Become a Brainstorming Specialist
Online Course • Advanced Innovation Group Pro Excellence - AIGPE
About the CPD course
After completing this Project Charter Specialist Training and Certification Program; you will be able to create a complete end-to-end project charter. You will be able to facilitate the discussion to update the several components of a project charter including the Project Title; Description; Deliverables; Business Case; Objectives; Scope; High-Level Requirements; Authority Level; Project Team; Stakeholder List; Project Risks; Assumptions; Constraints; Approval and Closure requirements; and project sign-off.
CPD Provider
Advanced Innovation Group Pro Excellence - AIGPE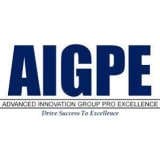 Advanced Innovation Group Pro Excellence - AIGPE
AIGPE is an independent Lean Six Sigma Credentialing Organization. Achievement of AIGPE certification is the most powerful way to build your career. AIGPE certification stands for an unequivocal independent validation of Lean Six Sigma knowledge and skills through our globally recognized Lean Six Sigma White Belt, Yellow Belt, Green Belt, Black Belt, Lean, Minitab, and other certifications.
Get industry-related content straight to your inbox