CPD Courses
Fintech Compliance Self-Starter including FinTech Startup Compliance Pro Certification
Online Course • Competitive Compliance
About the CPD course
Online Program followed by the Certification specifically designed to help FinTech Startups founders and leaders to design; launch and manage their compliance program and compliance function activities.
CPD Provider
Competitive Compliance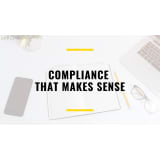 Competitive Compliance
Competitive Compliance is a boutique compliance consulting agency focused on early stage FinTech startups. After years of experience gained with Amazon and PayPal, Yana Afanasieva became an entrepreneur and developed her unique compliance project management methodology – famous "Just in Time Compliance" approach, reversing the pains and mistakes of traditional "Just in Case" compliance. We offer a number of online programs and workshops, supporting FinTech business owners and compliance professionals by offering templates and case studies, providing feedback, and sharing best industry practices. The worst possible mistake in compliance is starting from scratch.
Get industry-related content straight to your inbox
Thank you for subscribing