About the CPD course
This concise course delves into critical facets surrounding end-of-life support. Navigate the legislative landscape shaping end-of-life decisions. Delve into the complexities of assisted dying; contemplating ethical dimensions. Explore terminal illness; comprehending its challenges. Learn strategies for compassionate support; honoring individual needs. Probe the interplay of beliefs; religion; and culture; recognizing their impact. Champion choice and control; promoting personal agency. Embark on advanced care planning; ensuring preferences are honored. Recognise signs of impending death; fostering preparedness. Lastly; discover avenues for seeking assistance. This course equips you to navigate this sensitive terrain with understanding; respect; and practical insights.
CPD Provider
Complete Training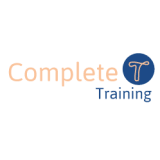 Complete Training
Complete Communication Ltd was formed in 2019 with the aim to provide friendly, cost-effective communication, education and language specialist services for disabled, and deaf people and the services which support them. Since our inception, our service offering has grown to meet the demands of our clients, who range from education settings, public services, theatres, festivals and private organisations to name a few. Complete Training was created in 2022 after it became apparent that the market required a comprehensive, interactive and most importantly accessible course provider, offering courses developed by experts.
Get industry-related content straight to your inbox
Thank you for subscribing