About the CPD course
There are many different places where personal data is stored; and we all have access to other people's information every day; from personal data such as names and addresses; to more sensitive information linked to an individual's health or financial situation. If this kind of information is stolen; lost; or disclosed to unauthorised people; the implications for the individual and for an organisation; could be very serious. This is why everyone should undertake sufficient information governance training.
CPD Provider
Complete Training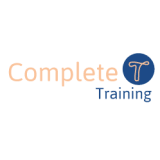 Complete Training
Complete Communication Ltd was formed in 2019 with the aim to provide friendly, cost-effective communication, education and language specialist services for disabled, and deaf people and the services which support them. Since our inception, our service offering has grown to meet the demands of our clients, who range from education settings, public services, theatres, festivals and private organisations to name a few. Complete Training was created in 2022 after it became apparent that the market required a comprehensive, interactive and most importantly accessible course provider, offering courses developed by experts.
Get industry-related content straight to your inbox
Thank you for subscribing