About the CPD course
Introductory Crypto Course for Financial Professionals; equipping them with sufficient knowledge to introduce the notion of crypto to their clients and answer questions their clients have.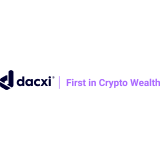 Dacxi
Dacxi is the world's leading crypto wealth company. We're focussed on helping our clients build long-term wealth via this rapidly mainstreaming asset class. Our headquarters are in Singapore, and we currently have offices in five countries.
Get industry-related content straight to your inbox
Thank you for subscribing