About the CPD course
This free self-led 12-part programme provides learners with the tools to prepare for a Digital Marketing career. Supported with 8-hours of one-to-one coaching with a CDI-qualified Coach; learners complete three certificated courses; attend webinars and workshops; and have access to a wealth of resources. The career development element of the programme enables learners to identify and build their strengths; skills and values; develop a growth mindset; review their CV; LinkedIn and public profile; enhance their interview skills and create a career action plan. Learners will be prepared for a career in Digital Marketing; and recognise their routes for progression.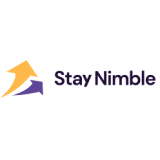 Stay Nimble
Stay Nimble is an award-winning tech social enterprise making coaching accessible and affordable through technology. Our platform helps you create meaningful, trusted relationships with a qualified professional that helps you to build a life of happiness and contentment by aligning your purpose, strengths and values with your job.
More CPD courses by Stay Nimble
Stay Nimble
Thrive is a 12-part programme that enables learners to build a life of happiness and contentment; po...
Get industry-related content straight to your inbox