CPD Courses
Truth Customer Academy loyalty course
Training Course • Truth Leadership & Marketing Solutions
About the CPD course
This course provides the opportunity for individuals to learn about all elements of CRM and loyalty. Through these content-rich modules; Truth will equip you with an in-depth understanding of the loyalty industry and the building blocks to create a compelling loyalty programme for your business. We share invaluable; comprehensive resources and case studies with you in the form of interviews with thought-leaders; global best practice principles; whitepapers; videos and articles. Case studies on international loyalty programmes will expand your knowledge of the ever-growing loyalty landscape.
CPD Provider
Truth Leadership & Marketing Solutions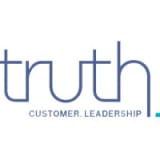 Truth Leadership & Marketing Solutions
Truth is a boutique consulting business specializing in loyalty & CRM. Truth focuses on simplifying customer centricity strategies and assist clients to translate them into tangible and measurable action plans. Adding value to customer experience Truth plays a significant role in assisting with customer engagement, customer insights and data analytics. Founded by Amanda Cromhout, Truth's in-depth knowledge and experience of the Loyalty and CRM industry has seen developments & launch of SA's biggest retail and banking loyalty initiatives.
Get industry-related content straight to your inbox
Thank you for subscribing