About the CPD course
Do you want to improve your communication skills? Are you looking for a way to increase your personal impact: gravitas and confidence in order to reach your business and personal goals? The Body Talk Business Communication & Presentation Skills Course is the perfect solution. You'll learn how to better captivate an audience with clear: concise and compelling communication that will help you achieve success in all areas of life. This course provides 90 days of access: allowing you to revisit and revise as many times as you wish. With all the benefits of our in-person workshops in the comfort and convenience of your home or office. Join us today!
CPD Provider
UK Body Talk Ltd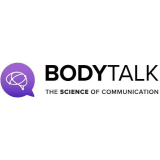 UK Body Talk Ltd
For 22 years, Body Talk has helped over 100,000 people worldwide communicate with confidence. Body Talk believes that everyone can be a great communicator, and we want to help you access your full potential. Body Talk offers workshops and coaching that help you remove habits that might hold you back and equips you with the tools you need to unleash your inner communicator. If you're looking to improve your presentation skills, business communication, or just your confidence in general, Body Talk can help you on your journey to success.
Get industry-related content straight to your inbox
Thank you for subscribing