CPD Courses
Business Sustainability Management online short course
Online Course • University of Cambridge Institute for Sustainability Leadership
About the CPD course
Sustainability in business is not the sole responsibility of a designated sustainability manager; instead; it needs to be integrated into business operations throughout the value chain. This course serves to provide individuals working within the private and public sector with a working knowledge of the following key areas within a sustainability context: Sustainability challenges; the business case and leadership for action; the regulatory environment and international policy; value chains; design; technology and innovation for sustainability; marketing and communication; collaboration and partnerships and putting sustainable plans into practice.
CPD Provider
University of Cambridge Institute for Sustainability Leadership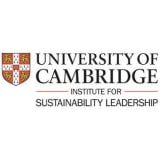 University of Cambridge Institute for Sustainability Leadership
CISL helps individuals and organisations achieve the innovation and organisational transformation needed to secure economic growth alongside social and environmental well-being. Our executive and graduate programmes enhance the ability of leaders to develop strategic responses to sustainability challenges and build their capacity to translate new knowledge and awareness into practice. Our Business and Policy Leaders Groups help to catalyse innovative, collaborative action on key sustainability issues. For over 25 years we have been working to build leadership capacity to tackle critical global challenges, through our business action, executive education and Master's-level programmes. Working with multinational businesses, multilateral agencies and national governments, we deliver projects on the ground in Europe, Africa, North and South America, Asia and Australia.
Get industry-related content straight to your inbox
Thank you for subscribing