About the CPD course
This training course is aimed at professionals whose work may bring them into contact with potentially trafficked persons or those who have the potential to be trafficked; enslaved and exploited. It is applicable for staff working in organisations such as Local Authority departments; Social Care; Police; Health; Legal services; non-governmental organisations and those who have a statutory duty under the Modern Slavery Act (2015).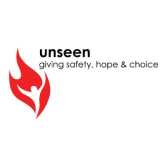 Unseen
Our specialist care is the first step in the fight against slavery. Through supporting survivors, our provision gives them a safe place to recover from trauma and rebuild their lives.
Get industry-related content straight to your inbox