About the CPD course
Dialogue is the difference. Whenever you're not getting the results you want, it's likely an important conversation either hasn't happened or hasn't been handled well. Both individual and organizational success are largely determined by how quickly, directly, and effectively we speak up when matters most. At the heart of healthy and high-performance organizations are people willing and able to hold Crucial Conversations. Crucial Conversations® for Mastering Dialogue gives individuals the skills to step into disagreement and turn disagreement into dialogue for improved relationships and results. Crucial Conversations® for Mastering Dialogue teaches nine powerful skill sets for lasting improvement.
CPD Provider
Crucial Learning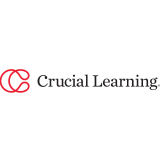 Crucial Learning
An award-winning leadership training company that enables organisations to achieve new levels of performance by changing employee behaviour. By combining social science research with innovative instructional design, we create flexible learning experiences that teach proven skills for solving life's most stubborn personal, interpersonal, and organisational problems. We offer courses in communication, performance, and leadership, focusing on behaviors that have a disproportionate impact on outcomes, called crucial skills.
More CPD courses by Crucial Learning
Crucial Learning
Managing performance is about people. Effective performance management isn't done with software and...
Crucial Learning
Influencer is a leadership course that teaches proven strategies to drive high-leverage; rapid; and...
Crucial Learning
The Power of Habit Training draws on the science of habit formation to help learners recognise the b...
Get industry-related content straight to your inbox
Thank you for subscribing