CPD Courses
"CSD" - Confidentiality; Security and Data Protection for Caldicott Guardians; SIRO's and Data Protection Officers.
Training Course • Walsall Health Care
About the CPD course
A workshop and training session; delivered as a virtual event where attendees follow an instructor led session using on screen guidance and a unique session playbook; to refresh and update their skills; knowledge and understanding of all Caldicott Guardians; Senior Information Risk Owners and Data Protection Officers. Enforcing the need for a collaborative approach to confidentiality; security and data protection while supporting public bodies to achieve their national Data Security and Protection Toolkit (DSPT) assertion.
CPD Provider
Walsall Health Care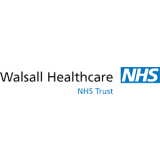 Walsall Health Care
Walsall Healthcare NHS Trust provides local general hospital and community services to around 260,000 people in Walsall and the surrounding areas. We are the only provider of NHS acute care in Walsall, providing inpatients and outpatients at the Manor Hospital as well as a wide range of services in the community.
Get industry-related content straight to your inbox
Thank you for subscribing