About the event
This paper proposes a framework for the valuation and the management of complex life insurance contracts; whose design can be described by a portfolio of embedded options; which are activated according to one or more triggering events. These events are in general monitored discretely over the life of the policy; due to the contract terms. Similar designs can also be found in other contexts; such as counterparty credit risk for example
CPD Provider
Fitch Learning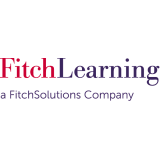 Fitch Learning
Part of the Fitch Group, Fitch Learning partners with clients to enhance knowledge, skills and conduct. Fitch Learning is a global leader in training with experience of delivering specialised technical training at all levels to the financial community. Fitch Learning partner with clients to elevate knowledge and skills and enhance conduct. We work with 9 out of 10 of each of the largest Investment Banks, Asset Managers and Global Banks and through state-of-the-art training centres in London, New York, Hong Kong, Singapore and Dubai, and our leading distance learning portals, we train more than 20,000 delegates each year.
Fitch Learning
Dive into the dynamic world of blockchain technology and bitcoin in this presentation; "Blockchain a...
Fitch Learning
The talk will focus on the following aspects of the managed futures hedge fund strategy among others...