About the event
Frontiers is a one-day event in London on 30 June 2022 that goes beyond PowerPoint slides; sales pitches and demonstrations. It's a relaxed atmosphere that is educational; interactive; engaging and fun. With an extensive amount of thought that goes into each presentation; it ensures that guests come away feeling energised; focused and have an enriched vision of the future state and its challenges. Live speakers include Deepfake specialist Nina Schick and former Director General of MI5; Baroness Manningham-Buller. Topics on the day include confidence in change; leadership under pressure; transition to all IP; 5G; customer experience and much more.
CPD Provider
Gamma Business Communications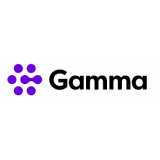 Gamma Business Communications
Gamma is a leading supplier of Unified Communications as a Service (UCaaS) in the UK, German, Spanish and Benelux business markets. It is AIM listed and employs 1650 people. With a range of UCaaS, Mobile and Connectivity services, Gamma provides robust and secure solutions that enable organisations to communicate, collaborate and offer a better customer experience.