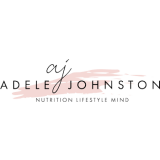 Adele Johnston Coaching
I'm Adele Johnston, a certified nutritionist and positive psychology coach, passionate about helping women improve their menopause health and reclaim who you are without menopause taking over. Through my online global platform, I help busy women world-wide to not only enhance menopausal health, lose the unwanted menopause weight gain, master your thinking and mindset; but to connect with yourself on a powerful level to improve your relationships, happiness, career prospects and open new ways of living your most fulfilling life.
Adele Johnston Coaching
A 12 week course designed for coaches and those working with an interest in supporting women through...