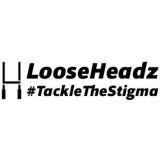 LooseHeadz Foundation
LooseHeadz is the rugby clothing brand working to Tackle The Stigma that surrounds mental health in sport. Each sale of our rugby apparel helps to fund the LooseHeadz Foundation. We guarantee that 100% of the profits from the sales of our rugby leisurewear will go towards improving the mental wellbeing of players at every level of the game.
LooseHeadz Foundation
We want to tackle the stigma around mental health in the rugby community. LooseHeadz Foundation in p...