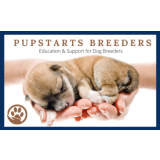 Smartstart Dog Training
We are passionate about providing breeder support and education, not only to help breeders, but to provide a safer experience for the dogs and puppies we are breeding and raising. Whether you are planning to breed or already part way through the process we have a course for you.
Smartstart Dog Training
Comprehensive course covering all aspects of dog breeding and whelping.
Smartstart Dog Training
Step by Step Guide to correctly raising a litter of puppies from 0-8 weeks to ensure thorough social...