About the CPD course
This course presents the airborne sound reduction and impact noise isolation of lightweight floating floor systems and confirms that CLT-assemblies can provide satisfactory sound insulation. Results of lab measurements on different types of floor setups are shown: including floor solutions using discrete bearings with various thicknesses and/or different void depths and resilient mats and strips; and different floating floors such as plywood: particle and cementitious boards: with and without the use of constrained layer damping technique: as well as gypsum topping.
CPD Provider
CDM Stravitec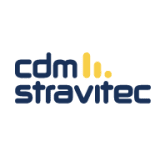 CDM Stravitec
Established in 1951, CDM Stravitec's reputation is built on a passion for solving noise and vibration problems, a professional approach, technical excellence, customer service, and, most of all, our people. CDM Stravitec is specialized in the design, production and implementation of noise and vibration isolation systems. Our dedicated team of engineers and technical designers are involved in high profile projects all over the world designing the best possible solutions for project specific noise or vibration problems.
More CPD courses by CDM Stravitec
CDM Stravitec
Following current acoustic standards and using common testing equipment; it is difficult to mimic th...
CDM Stravitec
There are many types of acoustical floating floors; one of which is a jack-up system. Once the concr...
Get industry-related content straight to your inbox
Thank you for subscribing