About the CPD course
This session is aimed at nurses; HCA's or support workers that may perform phlebotomy as part of their role. The course offers a comprehensive theoretical element along with enhanced practical focus. Our delegates are given plenty of opportunity to practice their technique in a lifelike simulated environment. It is expected that Individuals return to their place of work to be supervised performing the procedure until deemed fully competent. The theoretical element of the course looks at the anatomy; physiology; site selection; tourniquets; complications; infection control; ANTT and sharps safety.
CPD Provider
Distinction Solutions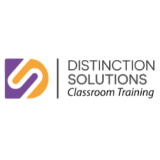 Distinction Solutions
Distinction Solutions is a multidisciplinary service. We have established a reputation within industries such as Domiciliary Care, Healthcare, Finance and Logistics for exceptional Training and Development and Tender and Bid writing with a 100% successful submission rate. Our expertise in training is evidenced by the satisfied customers who have come to expect nothing but excellence. Distinction Solutions operate with complete transparency and integrity throughout and will continue to offer excellence in everything that we do.
Get industry-related content straight to your inbox