About the CPD course
Mathematical models can be used to represent infection spread in different populations. There are numerous types of model for this purpose; but all models are based on the same principles of epidemic modelling. This course is for those wishing to learn the basics of ordinary differential equation epidemic models and how to implement these models in R.
CPD Provider
Equations of Disease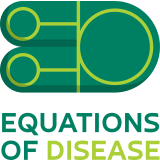 Equations of Disease
Equations of Disease is an online training platform specialising in mathematical and statistical methods in epidemiology and ecology. Our goal is to enable learning through access to resources, tutor support and connecting learners from across the globe. We provide free and discounted training to learners from the Global South.
More CPD courses by Equations of Disease
Equations of Disease
R is a free to use open source software that is widely used for data visualisation, statistical anal...
Get industry-related content straight to your inbox
Thank you for subscribing