CPD Courses
Sustainable Marketing, Media and Creative
Online Course • University of Cambridge Institute for Sustainability Leadership
About the CPD course
This online short course equips you with skills and strategies to re-align the purpose of marketing, media and creative to support long-term wellbeing for all people and planet. Over eight weeks, you'll learn how to inspire and reignite the potential for brands and creative roles to enable positive change. You'll also gain a heightened awareness of both marketing's physical impact on people and the environment and its capacity to influence human behaviours and identities, and engage in challenging discussions on issues such as growth, greenwashing and consumption.
CPD Provider
University of Cambridge Institute for Sustainability Leadership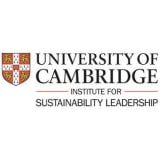 University of Cambridge Institute for Sustainability Leadership
CISL helps individuals and organisations achieve the innovation and organisational transformation needed to secure economic growth alongside social and environmental well-being. Our executive and graduate programmes enhance the ability of leaders to develop strategic responses to sustainability challenges and build their capacity to translate new knowledge and awareness into practice. Our Business and Policy Leaders Groups help to catalyse innovative, collaborative action on key sustainability issues. For over 25 years we have been working to build leadership capacity to tackle critical global challenges, through our business action, executive education and Master's-level programmes. Working with multinational businesses, multilateral agencies and national governments, we deliver projects on the ground in Europe, Africa, North and South America, Asia and Australia.
Get industry-related content straight to your inbox
Thank you for subscribing