About the CPD course
Before you can start training other, you must first develop the knowledge and skills needed to convey information in a compelling manner. In this immersive course, you will learn how to confidently train others in ways that fully involve and engage the learners. Learn how to create and deliver successful training sessions, develop your communication skills, plan a training session, deal with difficult participants, answer audience questions, and more. After learning the fundamentals, you will practice what you have learnt in realistic web-based simulations. The simulations can also be completed in virtual reality (VR) if you have a VR headset.
CPD Provider
VirtualSpeech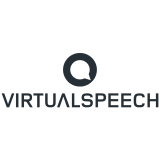 VirtualSpeech
VirtualSpeech is an award-winning soft skills training platform, specialising in web-based simulations, VR and AI to improve communication skills such as public speaking, sales, and leadership. VirtualSpeech has helped over 350,000 learners across 130+ countries to improve their skills and confidence with a unique blend of e-learning and immersive practice.
Get industry-related content straight to your inbox