About the CPD course
The CPD provides an introduction to EPDM and the varying types available. The subject of building envelope waterproofing using EPDM is explained through the material applications possible including flat roofing; green roofing; façade finish; façade sealing; pond lining and temporary waterproofing; this is supported by practical information regarding the installation methods. A broad portfolio of project case studies demonstrate the diverse applications possible using EPDM as an envelope waterproofing solution.
CPD Provider
CARLISLE Construction Materials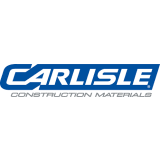 CARLISLE Construction Materials
CCM Europe is a dynamic company. As the leading manufacturer of EPDM roof sealing sheets, we rely on strong materials, flat hierarchies, and pragmatic thinking. We offer all architects, contractors, roofers, and distributors the right solution for virtually every sealing project be it flat roof, façade or building.
Get industry-related content straight to your inbox