CPD Courses
GLP for Study Directors; Principal Investigators; Study Staff and Management
Training Course • Research Quality Association
About the CPD course
This course is designed to provide comprehensive guidance and practical help for those who fulfil the role of Study Director or Principal Investigator in the conduct of non-clinical safety studies on pharmaceuticals; agricultural and industrial chemicals in compliance with Good Laboratory Practice. This course will also be of considerable benefit to study staff and management working in a GLP environment. The course will address current OECD GLP Principles and UK GLP legislation; but will also make reference to other international standards; regulations and guidelines.
CPD Provider
Research Quality Association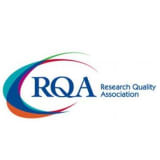 Research Quality Association
The research quality association (RQA) is a professional membership body dedicated to informing and advancing its members. We provide status and visibility for individuals engaged in the quality of research concerning pharmaceuticals, agrochemicals, chemicals and medical devices. Since our inception in 1977, the Association has increased and evolved to reflect regulatory changes, the growing impact of regulatory inspection and the ever-changing structure and needs of industry.
Get industry-related content straight to your inbox
Thank you for subscribing