CPD Courses
ICH E6 R2 Step 4: The biggest change in international GCP in 20 Years
Webinar • Research Quality Association
About the CPD course
In this course participants will discover what the GCP Inspectors "Hot Topics" are that have been added to E6 R2; whether these match with other major developments in GCP and if the regulation will have an impact on their organisation.
CPD Provider
Research Quality Association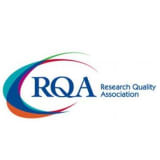 Research Quality Association
The research quality association (RQA) is a professional membership body dedicated to informing and advancing its members. We provide status and visibility for individuals engaged in the quality of research concerning pharmaceuticals, agrochemicals, chemicals and medical devices. Since our inception in 1977, the Association has increased and evolved to reflect regulatory changes, the growing impact of regulatory inspection and the ever-changing structure and needs of industry.
Get industry-related content straight to your inbox