About the CPD course
This course is specifically designed to develop and refine personal skills in the planning; performance and reporting of audits. It is applicable to any area of regulated research and development. It is particularly valuable where there is a quality system requirement for audit. In order to gain maximum benefit from the course it is recommended that participants have personal experience of audit.
CPD Provider
Research Quality Association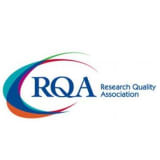 Research Quality Association
The research quality association (RQA) is a professional membership body dedicated to informing and advancing its members. We provide status and visibility for individuals engaged in the quality of research concerning pharmaceuticals, agrochemicals, chemicals and medical devices. Since our inception in 1977, the Association has increased and evolved to reflect regulatory changes, the growing impact of regulatory inspection and the ever-changing structure and needs of industry.
Get industry-related content straight to your inbox