About the CPD course
Often the first steps of implementing a quality system are the most difficult and this eLearning course provides vital guidance on how to set about implementing GCLP within your own laboratory. The training will also be beneficial to those who work within a clinical trials laboratory and who need to understand the GCLP requirements and comply with GCP regulations. The course provides step-by-step guidance; in modular form; on all the major system and process requirements for GCLP compliance. It is an invaluable tool for implementing and maintaining the GCLP quality system.
CPD Provider
Research Quality Association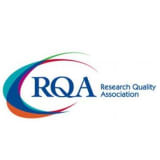 Research Quality Association
The research quality association (RQA) is a professional membership body dedicated to informing and advancing its members. We provide status and visibility for individuals engaged in the quality of research concerning pharmaceuticals, agrochemicals, chemicals and medical devices. Since our inception in 1977, the Association has increased and evolved to reflect regulatory changes, the growing impact of regulatory inspection and the ever-changing structure and needs of industry.
Get industry-related content straight to your inbox
Thank you for subscribing