About the CPD course
This interactive online web-based course introduces Good Clinical Practice. The course is divided into the following six bite-size learning Modules: The History of Good Clinical Practice; ICH GCP Guidelines - History and Introduction; Protocol; Sponsor Responsibilities and Essential Documents; Investigator Brochure; Ethics Committees and Investigator Responsibilities; European Union Clinical Trial Directives; Declaration of Helsinki.
CPD Provider
Research Quality Association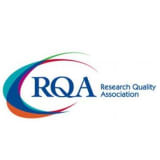 Research Quality Association
The research quality association (RQA) is a professional membership body dedicated to informing and advancing its members. We provide status and visibility for individuals engaged in the quality of research concerning pharmaceuticals, agrochemicals, chemicals and medical devices. Since our inception in 1977, the Association has increased and evolved to reflect regulatory changes, the growing impact of regulatory inspection and the ever-changing structure and needs of industry.
Get industry-related content straight to your inbox
Thank you for subscribing