About the CPD course
Lean principles have come a long way over the past 300 years. From Benjamin Franklin's early ideas; to Henry Ford's work in the 1920's and the Toyoda precepts in the 1930's; to Jeffery Liker's publication of The Toyota Way in 2004; Lean processes have evolved from a simple concept to a set of widely used best practices. This course will give participants the foundation to begin implementing Lean process improvement tools in their workplace. You will explore the foundations of Lean through the Toyota precepts and the five critical improvement concepts (value; waste; variation; complexity; and continuous improvement).
CPD Provider
Research Quality Association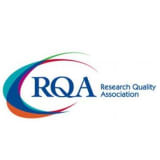 Research Quality Association
The research quality association (RQA) is a professional membership body dedicated to informing and advancing its members. We provide status and visibility for individuals engaged in the quality of research concerning pharmaceuticals, agrochemicals, chemicals and medical devices. Since our inception in 1977, the Association has increased and evolved to reflect regulatory changes, the growing impact of regulatory inspection and the ever-changing structure and needs of industry.
Get industry-related content straight to your inbox
Thank you for subscribing