About the CPD course
The course is made up of nine learning modules and is intended to introduce the audit process and includes: An understanding of the aims of the audit; Identifying how to initiate the audit; An understanding of how to effectively conduct document review; Preparation for on-site audit activities; How to perform on-site audit activities; An appreciation of the requirements of preparing; approving and distributing the audit report; How to complete an audit and conducting audit follow up; Identifying trends; performing root cause analysis and considering corrective and preventive action.
CPD Provider
Research Quality Association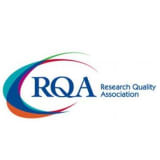 Research Quality Association
The research quality association (RQA) is a professional membership body dedicated to informing and advancing its members. We provide status and visibility for individuals engaged in the quality of research concerning pharmaceuticals, agrochemicals, chemicals and medical devices. Since our inception in 1977, the Association has increased and evolved to reflect regulatory changes, the growing impact of regulatory inspection and the ever-changing structure and needs of industry.
Get industry-related content straight to your inbox
Thank you for subscribing