About the CPD course
Quality means different things to different people; but central to all definitions is that quality is about meeting a standard. One definition states that quality is 'the degree to which a set of inherent properties of a product; system or process fulfill requirement'. The standards or requirements involved will be defined by circumstance. What does need to be clear is what the standard is. Measuring and demonstrating whether the work is up to the standard is part of Quality Assurance.
CPD Provider
Research Quality Association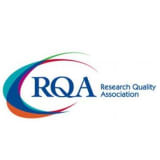 Research Quality Association
The research quality association (RQA) is a professional membership body dedicated to informing and advancing its members. We provide status and visibility for individuals engaged in the quality of research concerning pharmaceuticals, agrochemicals, chemicals and medical devices. Since our inception in 1977, the Association has increased and evolved to reflect regulatory changes, the growing impact of regulatory inspection and the ever-changing structure and needs of industry.
Get industry-related content straight to your inbox
Thank you for subscribing